Remember how I said yesterday my Google Reader was feeling overwhelmed? Now that I sorted it all out and gave it some room to breathe, I am doing what I always do and going to clutter it back up again. I really do love blogs. They make my day. They show me I am not alone in this world of wifery (new word I just made up-hey if husbandry can be a word, so can wifery!) and motherhood (real word I did not make up). It's amazing to me how many people you can connect with. I was telling my husband last night how much I love my own blog (I'm conceited) and how I've really enjoyed connecting with new people. I discovered why. I don't have any friends. Slow down...before you throw stones...I have a hard time making friends...girl friends. It is not easy for me and I do not have a lot of CLOSE friends that are girls. The ones I had through high school and college have, for the most part, moved away or we have just drifted.
I do have a couple of people in my life presently that I would consider GOOD friends (@Jennifer Young I'm including you in that) but beyond that, I don't have any other friends that I could just sit down and pour my heart out to. As a married woman, though I find I can connect easier with men, I can't just befriend all the cool guys I know and pour my heart out to them-that is a dangerous place to be. So I find that I am lacking when it comes to female friends because, for whatever reason, I just can't connect as easily with women.
ALL THAT TO SAY this blog and these new connections I am making has (have? I hate improper grammar--but I love parentheses!) been really good for me. While I'm not necessarily going to call all my new blog friends up on the phone (because by now you should know that I DETEST the phone) and have hour long conversations with them, I feel like that is what we do by reading one another's blogs and random incessant tweeting! And I don't know about the rest of you, but I NEED this. Everyone needs friends. So what if I make all my friends online? ;-)
**Don't worry-this isn't going to turn into some creepy stalking thing...at least not on my end! What you do is your own business!!
This isn't nearly as coherent as I want it to be. I just feel very passionately about this and the friendships I am making from being in a blog community. People outside of it just don't understand. My husband doesn't understand, but being the amazing man he is, he supports me 100% and loves that I have some excitement over making friends. I love that man!
So getting back to suffocating my Google reader, a friend whose blog I read is participating in this: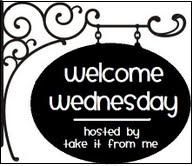 So today I will add my 'name' to the list and once more find other blogs to
choke
add to my Google reader! Here are the 'rules'/steps:
1. Follow the Welcome Wednesday Host (Take It From Me) as well as the 2 Spotlighted Blogs of the Week. (These will make up the top three slots on the Linky)


2. Link up your blog name and URL with our Linky. (You only need to add your info once for it to be seen on all the blog hops)

3.

Grab our Welcome Wednesday button

and include it in a post about the event on your blog.

4. Go to as many blogs on the MckLinky as you want and Follow them. Be sure to tell them you are from Welcome Wednesday!

5.

Be sure to

Follow back

any followers you have gained from our Welcome Wednesday event!




Feel free to join in and make some new friends with me!