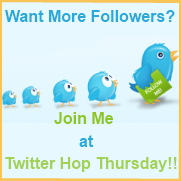 This is new to me and so I'm going to make a confession.
I've never liked Twitter.
In fact, I saw absolutely no point to it, on a personal level. Facebook did what I wanted and was much more sophisticated. Why would I just update my status all the time on Twitter and then do it all over again on Facebook? I even had the two linked at one point, but hated how limited I was...because I talk. A.LOT. 140 characters just wasn't sufficient.
However, with regards to my blog, I get it now! It makes sense to me. And since I have now created a Twitter profile for this blog, I thought I'd go ahead and participate in my first ever Twitter Hop Thursday. If you aren't interested in Twitter or don't care about it, please scroll past this post to get to the "good" stuff. ;) I'm at work so I can't click all the links but I WILL get to it tonight when I get home and follow anyone who is listed below.
Oh and if you are just reading my blog and not participating in the blog hop, but want to follow me on Twitter, I'm #97 in the list. Would love to see you and follow you back!